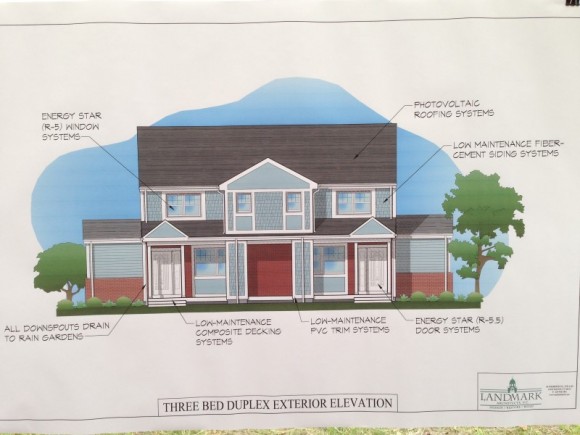 Architectural Renderings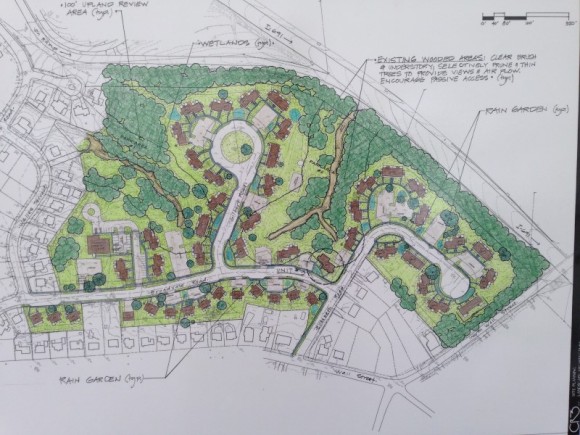 Site Plan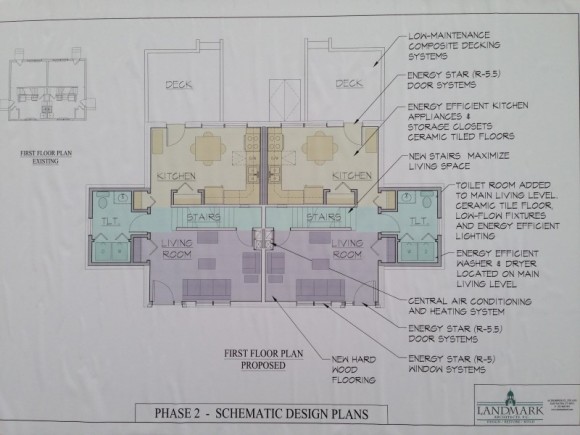 Interior Plan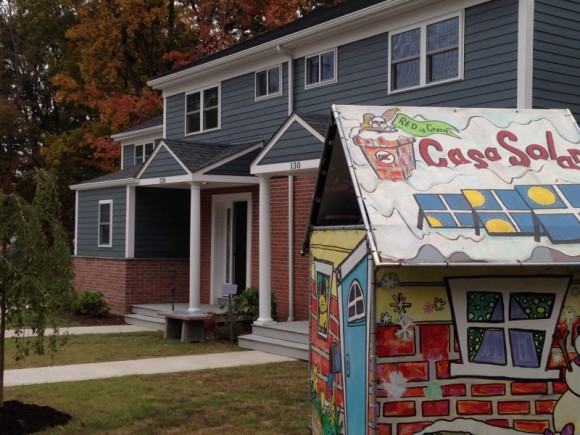 Community Art in front of Model Building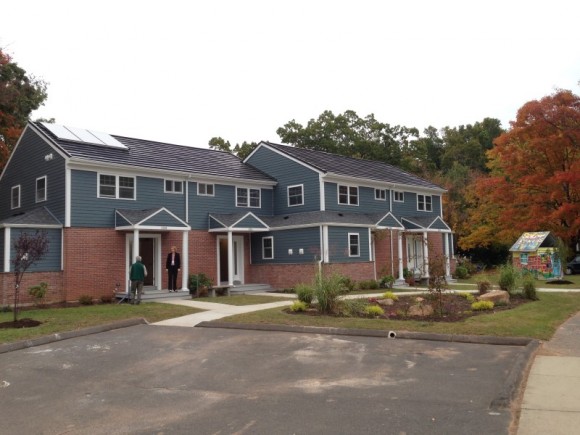 Model Building Street View
Project Background
In order to address the badly needed renovations at the Yale Acres complex, rising energy costs which have been becoming a burden on tenants, and recent natural disasters that have caused lengthy black-out condtions, the MHA revised it's original 2011 plan to simply renovate the apartments to include significant energy conservation and potential renewable energy components.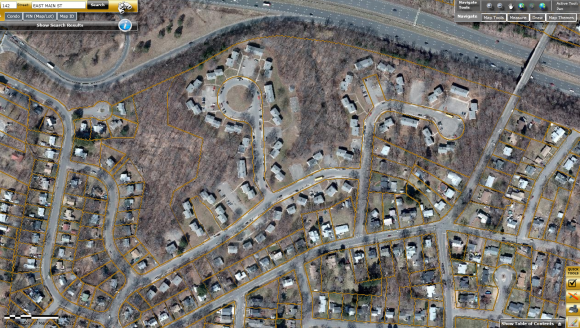 In mid-2012, MHA issued a national request for qualifications (RFQ) for those energy services. Advanced Energy Group (AEG) of Ann Arbor MI, who has worked with several Midwestern cities on district-wide renewable energy systems, was selected, in partnership with Landmark Architects of East Haven, CT.
AEG designed a two-part Phase 1 Model Project demonstrating:
a. Ideal conservation and "net zero" planning in an Energy Star Building Model, and
b. A Renewable Energy District (RED) Model, featuring Geothermal Heating and Cooling, Solar Photovoltaic (PV) electricity and Solar Thermal Hot Water.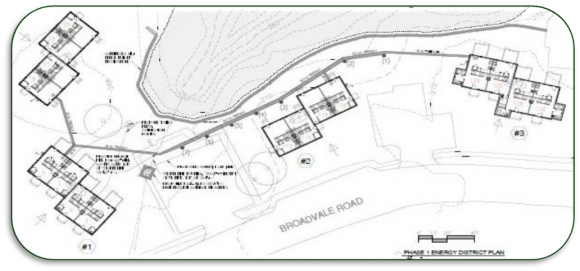 The Geothermal District Serves 3 Buildings in Phase 1; a 4th Will Be Added in Phase 2
The RED was planned to illustrate economies of scale in geothermal and solar usage. A full report (available) describes these Phase 1 efforts completed in October 2013. A Monitoring &Verification system was completed in December 2013. The 12 units that will be monitored for two years, consist of: the 4-unit Energy Star model building; a 4-unit building that had no updated insulation, windows, doors, roof, basement or appliances; and a 4-unit building that had had some recent standard insulation and window replacement. Phase 1 included a Community Art & Education project, involving Yale Acres families making public art while learning about the renewable energy project.
Phase 2 construction work will not begin in earnest until mid-2014 as MHA must await approval of the LIHTC application before any qualifying work can begin. Some work not covered by the LIHTC will be performed in preparing for Phase 2 in early 2014. Much of the preliminary work trains workers to install the geothermal district system along with learning to install other energy upgrades, and basic renovation in a three building section of Yale Acres, designed with specific goals in mind. Preliminary work will include:
• A 1000 Ft. (') Geothermal Conductivity Test Bore, undertaken in early 2014 to document the geologic makeup and thermal conductivity of the earth 400' to 1000' below the surface. The first 400' – tested in 2013 – is mostly sandstone (a very poor thermal conductor) and local geological study indicates that bedrock (a good thermal conductor) starts below the 500' level. Good conductivity below 500' could reduce the total geothermal bores by 50%.
• Production of GI.6 Heat Exchanger: AEG will partner with Geothermal Innovations (GI), MHA and a CT HDPE extrusion company to produce GI's GI.6 Heat Exchanger in CT. It can be installed down to 1000', does not need to be imported from Michigan, and will be ready for installation by mid- 2014.
• Local Job Training: MHA and AEG is developing, training and equipping a 10-12 person installation team which will first learn geothermal installation (both the geothermal field and the internal heat pumps), then solar PV, insulation and weatherization, sustainable landscaping, and deconstruction techniques.
• The Phase 2a rehab of three 2-Unit Buildings to train the Installation Team.
o Geothermal Field training, supported by CT Works, Middlesex Community College and the CT Dept. of Labor runs from January 6th to 24th, 2014.
o Geothermal Heat Pump Installation, Deconstruction, Weatherization & Insulation, Solar PV and Emergency Generation Installation and Sustainable Landscaping training will be layered in from January to April 2014.
• Site Preparation for Phase 2: Land acquisition, demolition and site prep.
• 100% of Architecture & Engineering will be accomplished by April, 2014.
• Completing Plans for the Yale Acres Community & Emergency Warming Center
• A follow-up Community Art, Education and Involvement program.
• Upgrades to the three building, 6 Unit, Mini-district will be completed by May 2014 and include the
The construction phase will take place in the latter half of 2014.
Click Here to See the AEG Project Blog